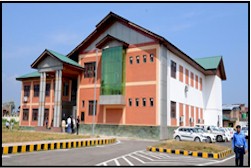 Srinagar Campus of J&K Judicial Academy is located at Mominabad, Srinagar (Near Tengpora Bye Pass) just 03 km away from High Court in the precincts of New District Courts Complex.
The construction of J&K Judicial Academy at Mominabad, Srinagar was started in the year 2008 by the Jammu and Kashmir Project Construction Corporation (JKPCC) at the estimated cost of Rs 5.33 crores which stands revised at the rate of Rs 6.92 crores. The funds for the project were allocated by the 13th Finance Commission of India. The Academy is two storey building having two lecture halls, one conference hall, a computer laboratory with 15 computers and a library. Besides, it has an air-conditioned auditorium with capacity of 280 seats with audio-video facility. The building is centrally heated.
Academy's building was formally inaugurated by Hon'ble Chief Justice of India, Shri Justice AltamasKabir at Mominabad, Srinagar in presence of Hon'ble Chief Minister, Jammu and Kashmir, Jenab Omar Abdullah, Hon'ble Sh. Justice T.S. Thakur, Judge, Supreme Court of India, Hon'ble Shri Justice M.M. Kumar, Chief Justice (Patron-in-Chief, J&K Judicial Academy), High Court of Jammu and Kashmir, Hon'ble Shri Justice Mansoor Ahmad Mir, Judge Incharge, J&K Judicial Academy, Jenab Mir Saifullah, Hon'ble Law, Justice and Parliamentary Affairs Minister, Hon'ble Judges of the High Court of Jammu and Kashmir and Judicial Officers of Kashmir province.